offpeakday
:
PORTEROS (goalkeepers): Iker Casillas, José Manuel Reina, Víctor Valdés
DEFENSAS: Sergio Ramos, Álvaro Arbeloa, Carlos Puyol, Gerard Piqué, Jordi Alba, Raúl Albiol, Ignacio Monreal.
CENTROCAMPISTAS(midfielders): Xavi Hernández, Xabi Alonso, Sergio Busquets, Santi Cazorla, Javier Martínez, Cesc Fábregas, Andrés Iniesta.

DELANTEROS(forwards): David Villa, David J. Silva, Fernando Torres, Fernando Llorente, Juan M. Mata, Jesús Navas.

Concentración happens on juves 10 de noiviembre ( thursday 10th of Nov) at 10:30 at the Ciudad del Fútbol de Las Rozas (the city of football in Las Rozas which is in Salamanca).
Salida para inglaterra at 20:00 from aeropuerto de Barajas (flight from Spain to England will leave at 20:00 the same day).
The entrance at Wembley opens at 15:45 and kick off is set to be at 17:15.
Pia and I will arrive in London at 12 and head to Wembely around 14:40 I think.
aaaaah, how is the most excited person in the world right now? yeah, that's right;
ME
! I got
Torres, Ramos, Alonso, Albiol, Arbeloa, Casillas, Llorente, Villa, Mata, Reina, y Navas
! y omg, i haven't seen Navas in so long at a call-up! :3
can't believe that its only a week left. omg, its going to be
so so so
amayzin!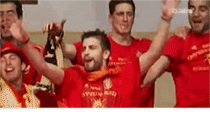 also, i learned that porteros can mean both goalkeeper y janitor! you learn something new everyday.